Infant Annihilator - The Elysian Grandeval Galèriarch - (9/10)
Published on September 13, 2016
Tracklist:

Unholy Gravebirth
Crucifilth
Motherless Miscarriage
Baptised, Bastardised, Sodomised
Behold the Kingdom of the Wretched Undying
Soil the Stillborn
Paedophilic Ultimatum
Neutered in Utero
Pelt of Innocent Flesh
Blasphemian
Neonatalimpalionecrophiliation
Genre:
Experimental Deathcore / Technical Death
Label:
Independent
Playing Time:
58:38
Country:
United Kingdom
Year:
2016
Website:
Visit page
Bashing babies with style.
A pleasant smile, direct eye contact, a firm handshake, and sturdy conversation—standard first impressions upon meeting someone new. Of course, first impressions have become just that, an impression, a polite forgery, a well-oiled ritual of what we assume we should behave, look, sound like. Second and third impressions are much more accurate, telling. The skin gets peeled back, the ribbed root of the person reveals itself. First impressions with metal, or all music for that matter, work in a very similar fashion; shoddy albums gradually expose their shoddiness over time, while great albums, well, you blast the shit out of them for weeks on end.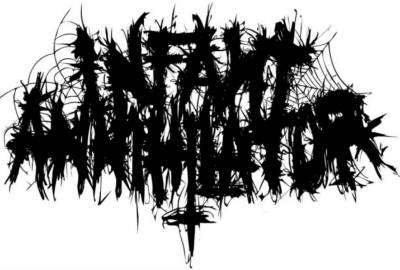 The Elysian Grandeval Galèriarch, the second full-length release from UK-based brutal deathcore trio Infant Annihilator, falls quite heavily in the latter camp. In fact, and if you're anything like this reviewer, this 11-track barnstormer of overindulgence has single-handedly resurrected a subgenre previously thrown to the wolves for neon scraps. Of course, having invested hours with Infant Annihilator's latest would be foolish without a bit of background reference; their 2012 debut, The Palpable Leprosy of Pollution, a considerably more 'traditional' deathcore record when contrasted with The Elysian Grandeval Galèriarch, works as a battering, radical dose of frazzled absurdity torn from the same soiled cloth, and, foremost, another highlight of the divisive subgenre. But let's not digress.
Comprised of Eddie Pickard, Aaron Kitcher, and Dickie Allen, this embryo-crazed trio specialize in a distinctly busy, often hyperactive brand of deathcore that routinely escapes the boundaries of its much-maligned subgenre, so much so that flat-out exclaiming Infant Annihilator as technical death, brutal death, or experimental death, would easily suffice for those less stringent on genre-tagging. The breakdowns, screech-roar vocals, and uber production values remain indisputably deathcore, but there's a whole lot more to the proceedings than that. Speckled throughout the record are choice melodic moments and well-placed solos of both the bizarre and shiny arpeggio strains, flashy and graspable bits that keystone the streams of sticky notes and angular chugging. The atmosphere is crisp and palpable, and while void of murk or rawness, a strong if not quirky sense of wickedness zephyrs about, one blown by the demonic rasps, shrieks, bellows and a total unchecked intensity that burns out of the speakers like an escapee with a hard-on.
Dialing in on the band's fully-loaded sound is one of the more enjoyable aspects of Infant Annihilator, with acts like Anaal Nathrakh, Cattle Decapitation, Disfiguring the Goddess, The Tony Danza Tapdance Extravaganza, The Black Dahlia Murder, and several others all popping to mind over the course of The Elysian Grandeval Galèriarch. Despite the similitudes, the album and band remain dementedly original and appear impervious to both clothing and critics alike, a notion gleaned from their intensely homoerotic video for "Motherless Miscarriage," a track that concludes with an ambiguously effective sample from the 2015 film The Witch. Deathcore or otherwise, human or machine, the degree of songwriting is certainly top-notch; the band burn furious with the album highlight "Unholy Gravebirth" and the kinetic baby-tamping "Soil the Stillborn," and then strut about and spread eagle with the slamming "Blasphemian" and the massive "Behold the Kingdom of the Wretched Undying," a song which, amazingly, manages to stay interesting over its engorged 17-and-a-half-minute playing time.
The bulk of its parts, all misshapen and flailing like some Urotsukidoji demon, build The Elysian Grandeval Galèriarch into a record too bizarre, energetic, and creative to not, at the very least, offer some degree of curiosity. While unapologetically modern in production and execution, Infant Annihilator play with all the manic and stylish madness of a '90s horror film, always eager to ante up the oddness when the audience is sure it's reached a peak, and thus wielding, whether deliberate or not, an uncanny amount of nostalgia for those with a penchant for the over-the-top.