Editor's Note: Yes, we know Tool's fifth full-length album Fear Inoculum is out, well today, August 30th, AD 2019, but we at The Metal Observer opted to keep this article in its original state when it was published way back when on October 24, 2015. The only aspects that have been altered is the list of bands and their respective videos. Enjoy!
It's been nearly a decade since 10,000 Days, but Los Angeles's Tool continue to remain one of the most divisive bands going. Often cited as too accessible, too progressive, too alternative, too associated with the nu-metal generation, the group are viewed as an anomaly amongst fork-tongued, nay-saying metal pundits who refuse to accept their sound as conclusively 'true.'
Regardless of which side you're on, this is where we're at, and now, with the rumor brook bubbling ever so loudly of a new record, it seems a relatively appropriate time to offer a list of bands that a Tool fan could turn to—as satiation or preparation—when word leaks that the new album drops in late 20(insert number).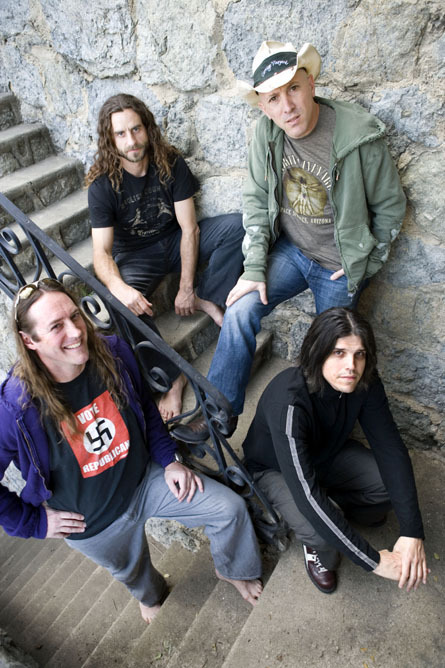 To clarify: while the following bands are creative in their own unique right, they've been added to this list because, whether they (or you) admit it or not, they exude a certain degree of distinct Toolness. Be it a driving bass, godly drumming, a psychedelic atmosphere, extraterrestrial guitar lines, or a frontman that gives off a decidedly MJK impression, these bands should, in one way or another, make the wait for Tool's next record a bit less aggravating.
Chevelle
Yes, Chevelle. A band that, like Tool, fall into a category that borders on the precipice of rock and metal. But who gives a shit about all of that. On 1999's Point #1, 2002's Wonder What's Next, and 2004's This Type of Thinking (Could Do Us In), the Loeffler brothers delivered some angsty, emotive, and surprisingly atmospheric alterna-metal. Pete's clean/harsh vocals act as the tie that binds it all together.
Peach
This was the band that bassist Justin Chancellor plucked strings in before heading to Toolville when Paul D'Amour split following the release of Undertow. On their 1994 debut Giving Birth to a Stone, Chancellor's bass work is aggressive and unmistakable, and the band—which toured with Tool in Europe in '93/94—offer plenty of angular riffing, weirdness, and expressive vocals to earn a rightful spot.
Soen
While the band's last album, Tellurian, is perhaps a bit more Opethian than it is Toolific, Soen's 2012 debut, Cognitive, is a massively excellent slab of 'Hey-you-know-who-the-fuck-this-sounds-like?' Comprised of former Opeth drummer Martin Lopez, ex-Death, Testament, and Sadus bassist Steve DiGiorgio, Willowtree vocalist Joel Ekelöf, and guitarist Kim Platbarzdis, Soen avoid mimicry by studiously carrying the Tool torch and forging some seriously beautiful and well-crafted tunes. Vivid cover art, stirring vocals, and an affinity for intricate, otherworldly progressive metal? Huzzah!
Proghma-C
Poland's Proghma-C may not be very well-known, but that shouldn't keep you from delving into their 2009 full-length debut, Bar-do Travel, a stunningly intense and ambidextrous array of off-kilter rhythms, wonderful clean vocals, and alien atmospheres culled from a Galactus-consumed planet. Probably as much influenced by Meshuggah as Tool, but still, you'll know it when you hear it…no doubt-a-bout-it.
Meshuggah
Dur.
On the onset, these Swedish kings don't really sound like Tool…like at all. But, more often than not, people who love Meshuggah usually love Tool. Now while that seems motive enough to include them here, it's not the only reason. Most bands that tour with Tool—not all, mind you—tend to, in their own weird way, wield certain intangibles that simply mesh with the overarching vibe that Tool happen to conjure. When the pair toured together following the release of Lateralus, it was a match made in heaven…or hell…or, you know, a black soundless void. In addition to the extraterrestrial soundscapes, Fred Thorendal's eldritch solos, T. Haake's undulating rolls, and Dick Lovgren's omnipresent bass, Meshuggah certainly dances to a similar discordant system.
NOTE: Other Tool tourmates—Isis, Fantomas, Knife, Yob—are also wholly recommended.
Caligula's Horse
This prog rock/metal quintet from down under may not wield the same dark atmosphere redolent of a Tool album, but there's little refuting just how much this group can summon those good LA vibrations. Although the band's patient song-writing process and Sam Vallen's guitar playing are absolute shining lights, the irrepressible Jim Grey—whose work on Arcane's Known/Learned may prove to be this year's best vocal performance—will raise your pulse before lulling you to sleep. If anyone can out Maynard Maynard, it may be this fella.
Ayurveda
Before lead singer Tom Burchinal left and the remaining members formed the excellent Photoreal, Ithaca, NY's Ayurveda seemed to be the most likely candidate to join Tool for a tour. The gorgeous atmospheres and clear and open song-writing walked hand-in-hand with unorthodox musicianship and the aforesaid Burchinal's matter-of-factly excellent vocals. While their departure for less heavy pastures did culminate with the band's magnum opus in 2010's H. Luminous, Ayurveda's earlier records are delightfully snipped from a very similar cloth as Tool, with 2009's Down the Staircase probably serving up the best example.
Rishloo
Having formed in 2002, Seattle quartet Rishloo have certainly stretched their legs in the prog rock/metal genre. Their last album, Living as Ghosts with Buildings as Teeth, was a vivacious tour-de-force of hifalutin prog theatrics, but it wasn't too long ago that the band, especially on their first two albums, sipped liberally from the well of Tül. On their 2004 debut Terras Fames and 2007's Eidolon it's hard not to get swept up in Andrew Mailloux's rousing vocals or the band's deference to moody, meandering atmospherics.
 ………………………………………………………………
Now, it's true that there are many other bands that have certain Toolcentric eccentricities but, in truth, I'm tired of writing about this. Ultimately, and presumably, like you, I just want a new Tool album. If I missed a band that may or may not sound like a certain L. A. quartet, please add them below in the comments. And for the smell of it, here are a few more examples, some obvious, some less so.
A Perfect Circle
Puscifer
Nero di Marte
The Porcupine Tree
Trilobite 
Void of Sleep
Karnivool 
Katatonia
Mother of Millions
Arcane